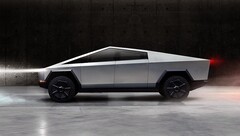 The Tesla Cybertruck electric pickup's batteries are about to be built in the company's Fremont factory, while the truck's assembly will be done at the Gigafactory in Austin, Texas. Tesla is said to be using 4680 battery cells for the Cybertruck.
Recently, it became clear that Tesla is redirecting battery-making equipment destined for its Gigafactory in Berlin to the new one in Austin. There is still no operational battery line in the Texas Gigafactory, though, so the batteries for the electric Cybertruck pickup manufactured there will actually be made in Fremont, tip industry insiders. While Tesla's old Fremont factory is one of its least efficient plants, it is the only one that produces all four EV models that Tesla currently sells, plus it has a battery-manufacturing facility as well.
The Fremont factory is where Tesla's new and revolutionary 4680 cells are made, too, indicating that these might be the ones that would be going into the Cybertruck when it is released next year. Unfortunately, the 4680 batteries are not as revolutionary as Tesla made them out to be just yet. So far, the promised drastic cost savings from their usage are largely due to the design of the battery that stacks several cells in one housing, rather than the dry electrode manufacturing improvements which turned out trickier to produce en masse.
Back in February, Tesla's battery facility at Cato Road in Fremont bragged with the millionth 4680 cell produced there, and has since ramped up the unit numbers significantly. The new Model Y vehicles from the Austin factory, for instance, now come with structural cell-to-chassis packs built out of 4680 batteries which are nearly impossible to disassemble and change individual cells only. The Cybertruck could sport similar battery packs architecture as they are delivered from the newly built production line on the second floor of the Fremont factory. 
Daniel Zlatev – Tech Writer – 428 articles published on Notebookcheck since 2021
Wooed by tech since the industrial espionage of Apple computers and the times of pixelized Nintendos, Daniel went and opened a gaming club when personal computers and consoles were still an expensive rarity. Nowadays, fascination is not with specs and speed but rather the lifestyle that computers in our pocket, house, and car have shoehorned us in, from the infinite scroll and the privacy hazards to authenticating every bit and move of our existence.
Daniel Zlatev, 2022-10-19 (Update: 2022-10-19)