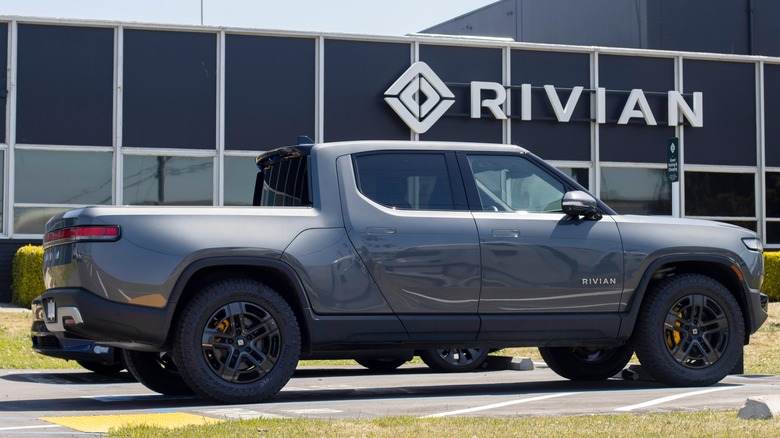 Tada Images/Shutterstock
Rivian is known for offering tons of swag along with its EV truck, the R1T, and its SUV, the R1S. Delayed mobile cooking station aside, Rivian's gear shop is full of all manner of branded gear, T-shirts, backpacks, hats, and even a flashlight. None of it is exactly budget friendly as Rivian lists the flashlight and charger at $225, alone! That high price tag falls in line with Rivian's vehicles. The R1T starts at $73,000 before any options. The R1S starts at $78,000. Neither vehicle is intended to compete with entry level vehicles like the Nissan Leaf, the upcoming EV Chevy Equinox, or even a Tesla Model 3. 
DC fast charging from dedicated charging stations while out and about is nice and convenient, but one of the biggest advantages for an EV owner is the ability to charge at home. It may be significantly slower than fast chargers, but if you charge it overnight, or while relaxing at home, it's incredibly convenient to wake up in the morning with a fully charged battery. Unsurprisingly, Rivian's home charging solution leans towards the pricey side, especially when compared to its competitors. 
Home charging woes
At a cool $800 for Rivian's first-party wall charger (via Rivian), not to mention the cost of getting an electrician to install it, the ability to charge at home can get expensive. That may be adding insult to injury for an EV that's already over $70,000. For comparison, Tesla's wall charger costs $400, plus installation fees (via Tesla). On top of this pricing discrepancy, that charger can replenish up to 44 miles of range per hour, compared to the Rivian charger's rate of 25 miles per hour of charging.
Rivian's charger is only topped by Ford's Charge Station Pro which retails for $1,310, plus installation (via Ford). It's also included with the extended-range versions of the F-150 Lightning. Ford's charger, however, is capable of up to 80 amps, compared to Rivian's 48 amps. The Charge Station Pro is also capable of connecting to Ford's Home Integration System and feeding power from the Lightning back into your house in the event of a power outage. Ford's charger is much more expensive, but it's capable of quite a bit more than the Rivian offering.