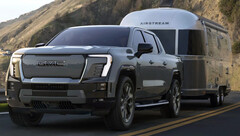 With up to 9,500 lbs towing capacity and 0-60 mph acceleration in under 4.5 seconds, the 754HP GMC Sierra Denali Edition 1 EV won't disappoint the fans of heavy-duty pickup trucks. Slated for an early 2024 release, the Sierra EV offers up to 400 miles range on a charge at a hefty price.
The General Motors Company, which has vowed to become America's largest electric car manufacturer with a capacity for one million EVs by 2025 and is investing north of US$40 billion in the project, announced its first electric Sierra Denali Edition 1.
Slated for an early 2024 release, the heavy-duty pickup truck is powered by electric motors with combined output of up to 754 HP and 785 pound-feet of torque. GMC estimates that the Sierra Denali Edition 1 range will be about 400 miles on a charge and is pricing it from US$107,000 for all those mouth-watering specs.
Built on its Ultium EV platform, just like the Chevy Silverado EV RST First Edition that will cost US$105,000 when it is released early next year, the electric GMC Sierra Denali will be made in the Factory ZERO Assembly Plant in Michigan and would qualify for the new made-in-America EV subsidies.
The 800V charging system allows for a 100-mile range top-up in just 10 minutes, but GMC isn't disclosing the exact battery capacity just yet. The towing capacity, on the other hand, is up to  9,500 lbs, while the truck does 0-60 mph in below 4.5 seconds time. GMC's exclusive Super Cruise Driver-Assistance tech as well as the 4-Wheel Steer with diagonal CrabWalk also come standard on the new Sierra Denali Edition 1 EV.
GMC has taken pains to utilize the extra space freed up by the lack of a combustion engine and has updated the "electrifying" interior accordingly. A 17-inch central console touchscreen and a glass panoramic roof round up the new interior, while on the outside the Sierra Denali Edition 1 will be a looker with 35″ tires on  24″ alloy wheels. GMC is taking reservations for the electric Sierra Denali Edition 1 right now, with the first trucks shipping to those who preordered in early 2024.
Get the AMP PowerStep Electric Running Boards for 1999-2006 Silverado/Sierra/Denali on Amazon
Daniel Zlatev – Tech Writer – 435 articles published on Notebookcheck since 2021
Wooed by tech since the industrial espionage of Apple computers and the times of pixelized Nintendos, Daniel went and opened a gaming club when personal computers and consoles were still an expensive rarity. Nowadays, fascination is not with specs and speed but rather the lifestyle that computers in our pocket, house, and car have shoehorned us in, from the infinite scroll and the privacy hazards to authenticating every bit and move of our existence.
Daniel Zlatev, 2022-10-21 (Update: 2022-10-21)