Former President Donald Trump will take the stage at the Conservative Political Action Conference, commonly known as CPAC, where he's expected to send a message that he may be out of office but he's still the leader of the GOP.
Aside from a few interviews following the death of conservative commentator Rush Limbaugh, CPAC will mark Trump's first public appearance since leaving the White House. It comes against the backdrop of his provocation of GOP infighting with a threat to endorse primary challengers to Republican incumbents who don't fall in line with his America First agenda.
Trump's scheduled to close out the four-day conference at 3:40 p.m. on Sunday. CPAC has a live stream set up on its website, and viewers can also tune in online with C-SPAN. Trump's speech will also be available on television on C-SPAN 1.
The former president is expected to send the message that he is the Republicans' "presumptive 2024 nominee," according to Axios. He hasn't made an official decision as to whether he'll challenge President Joe Biden to a rematch in 2024, but he has left the door open to the possibility.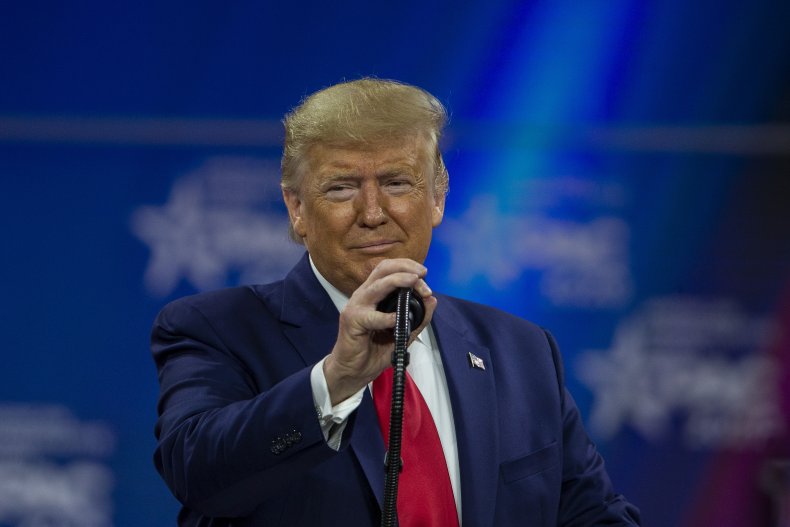 Some are skeptical Trump will go through with a 2024 run, even if he creates speculation that he'll make a run for the White House. Regardless of whether Trump leads Republicans on the presidential ticket, his influence is apparent in the party.
Polls show the majority of Republicans are still on the Trump train and support him more than they do the GOP as a party. Legislators who have failed to toe the line of the Trump-led GOP have quickly faced the consequences.
The 10 House Republicans who voted to impeach the former president in January faced censures from their home states, promises of primary challengers and calls to resign. One of the most prominent faces of the impeachment, Representative Liz Cheney was asked to apologize for her vote and had her leadership role put up to a vote, which she survived with 145 Republicans voted in her favor and 61 voting against her.
Seven Republicans voted to convict Trump in the Senate, but it was Senate Minority Leader Mitch McConnell, who voted to acquit the former president, who became the target of Trump's wrath. After voting to acquit, McConnell issued a scathing floor speech in which he cast blame on Trump for the Capitol riot and didn't rule out the former president being the subject of criminal charges.
In response, Trump lambasted McConnell in a statement of his own, calling him detrimental to the Republican Party's ability to win elections. With the two former allies at odds, Senator Lindsey Graham attempted to smooth the situation over. He told Fox News that McConnell was instrumental in helping move Trump's agenda through Congress, but that the Senate leader was "missing a lot" if he didn't see Trump as the "most consequential Republican in the party."